Apple Medical Corporation has been acquired by CooperSurgical, Inc.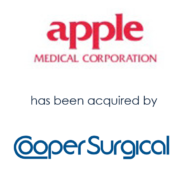 Mirus Capital Advisors, a middle-market investment bank specializing in mergers and acquisitions, announced today that it has advised Apple Medical Corporation on its merger into a subsidiary of CooperSurgical, Inc., a division of the Cooper Companies (NYSE: COO). Apple Medical is a medical device company focused on the OB/GYN market and is headquartered in Marlborough, Massachusetts.
The acquisition of Apple Medical provides CooperSurgical with a well-respected suite of products for laparoscopic gynecologists as well as the innovative and popular Mobius® elastic abdominal retractor. For cesarean sections and other surgical procedures, Mobius replaces the steel retractor with a cylindrical ringed sleeve, allowing for smaller incisions, reducing bleeding and infections, leading to shorter hospital stays, and obviating the need for an assisting surgeon to hold a steel retractor in place.
"Mirus distinguished itself as a trusted advisor at every stage of the process," said Dr. Cynthia Schaefer, Apple Medical's Chief Executive Officer. "Mirus's thoughtful strategic guidance, practical advice, and hands-on management of the transaction were invaluable in helping us evaluate our options and execute our chosen strategy."
Apple Medical Corporation (www.applemed.com) has specialized in providing unique, high quality medical devices, instruments and equipment exclusively for professionals in obstetrics and gynecology for over 20 years.
CooperSurgical, Inc. (www.coopersurgical.com) develops, manufactures and markets medical devices, diagnostic products and surgical instruments and accessories used primarily by gynecologists and obstetricians. Its major manufacturing and distribution facilities are in Trumbull, CT, Pasadena, CA, and Stafford, TX.
About Mirus:
Mirus Capital Advisors is a mid-market investment bank with over 25 years of experience closing deals for companies valued from $10 million to $100 million. Our industry knowledge and global reach affords us with access to, and relationships with, the best buyers for your business – and our focus on the intangibles that drive value for a buyer makes it possible for us to close a deal that exceeds your expectations for value and liquidity while safeguarding your business from many of the distractions of the M&A process.
Back to Transactions