BioModels has received a strategic investment from Inter Medico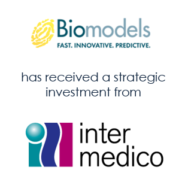 Mirus Capital Advisors, a middle-market investment bank, announced today that it has advised BioModels, a profitable and growing preclinical contract research organization (CRO) in the majority recapitalization of its business, with a strategic investment from Inter Medico.
BioModels has an outstanding track record of providing biotechnology and pharmaceutical clients with predictive, model-based research used to expedite and inform the drug development process, with more growth opportunities than it could pursue under its capitalization. The infusion of capital will allow the management team to take the business to the next level, according to the Mirus team who managed the transaction. This transaction created significant liquidity for the shareholders, with active shareholders reinvesting alongside the new majority owner. Mirus acted as the exclusive financial advisor to the selling shareholders.
About Mirus Capital Advisors:
Mirus Capital Advisors provides investment banking solutions to corporate clients in technology, business services, manufacturing, consumer products, health care and the resort & hospitality industry. Since 1987, Mirus has provided corporate finance advisory services on engagements including mergers, acquisitions, divestitures, recapitalizations and valuations. For additional information, visit www.merger.com.
Back to Transactions