Eutecus, Inc. has been acquired by Sensity Systems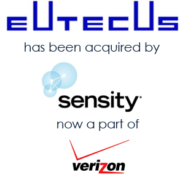 Mirus Capital Advisors announced that Eutecus Inc., the global technical leader in embedded video analytics; providing single-chip, multi-channel video and fusion analytics solutions, has been acquired by Sensity Systems Inc., a provider of a leading Internet of Things (IoT) platform for Smart Cities, (now a part of Verizon see  http://www.sensity.com/pressrelease/verizon-acquisition-sensity).  Mirus served as exclusive financial advisor to the owners of Eutecus, a US corporation, with a subsidiary in Budapest, Hungary.
Eutecus is part of the exciting and rapidly expanding Internet of Things market, with special strength in Intelligent Lighting Systems (ILS). Intelligent Lighting Systems make use of video cameras built into lighting fixtures to collect data. Processed camera data is then used for numerous applications including lighting system control, parking assist, traffic control, retail analytics, security and other purposes.
As reported in Sensity's press release dated August 9th, "We realized very early that video would be the most powerful sensor for delivering actionable, real-time information to Smart City applications," said Hugh Martin, Chairman and CEO of Sensity Systems. "To capitalize on this opportunity, we formed a relationship with Eutecus three years ago to help build the world's first Smart City Vision System and integrate it into our NetSense platform. Today, we are leading with 42 Smart City installations worldwide, and this success would not have been possible without the Eutecus technology. We are pleased to have Eutecus join us and build on our long-term strategy."
"The Eutecus team is excited to be part of Sensity," said Csaba Rekeczky, CEO and President of Eutecus, who has joined Sensity as Vice President of Advanced Analytics and Vision Systems. "We've been at the forefront of research and development of neuromorphic and bio-inspired computing technology for embedded vision solutions, powering a range of industrial and automotive applications. Our team and technology solutions augment Sensity's leadership in Smart Cities."
"This acquisition is reflective of not only a red hot IOT M&A market, but also a key M&A trend we are observing in the marketplace; the transition from buyers focusing on infrastructure-related IOT acquisitions to application-related acquisitions," said Mirus Investment Bankers Peter Alternative and Bruce Boes.    This is the sixth enterprise technology deal Mirus has closed over the last couple years and it continues to cover the IOT sector closely with an upcoming white paper reflecting its' views regarding key IOT M&A trends, players, and likely winners and losers.
As mentioned above, Verizon announced its intention to acquire Sensity Systems on September 12, 2016.   As stated in that press release, "Sensity is a leading provider of IoT solutions for smart communities with a strong ecosystem of partners, and this transaction will accelerate the deployment of large-scale implementations that will drive the digital transformation of cities, universities, and venues," said Mike Lanman, senior vice president of enterprise products and IoT at Verizon.
According to Eutecus CEO Csaba Rekeczky, "The Mirus team played a critical role leading this transaction to a successful conclusion on behalf of my team and the company's shareholders.  They were an absolute pleasure to work with and provided professional guidance at each stage of the M&A process.  They understood our business and technology positioning at a deep level, as well as the complexities of our international structure.  Ultimately this helped us to successfully navigate the resulting complex negotiations, and due diligence processes.  They clearly exceeded our expectations and I would not hesitate recommending them to anyone looking for professional M&A advisors with deep knowledge and relationships in the IoT arena."
ABOUT MIRUS CAPITAL ADVISORS
Founded in 1987, Mirus Capital Advisors is a middle-market investment bank that specializes in merger advisory, capital-raising services, fairness opinions and valuations to entrepreneurs, corporations and professional investors in technology, consumer products, manufacturing, business services, health care and resort & hospitality industries.  By combining a proven process, industry & transactional expertise, and personalized service, Mirus has completed hundreds of transactions for both public and private companies.  Our affiliate Mirus Securities, Inc. is a registered broker-dealer and FINRA member.
Back to Transactions