Merrill Corporation Announces Acquisition of Lextranet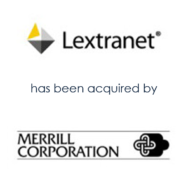 St. Paul, MN – Merrill Corporation, a leading global provider of technology-enabled services for the legal, financial, real estate, and other corporate markets, today announced the acquisition of Lextranet®, a leading provider of Web-based litigation support and case management systems. Lextranet's Web-based platform and premium transcript and case management tools will increase Merrill's capacity to provide clients with a complete set of world-class litigation support solutions to manage the growing amount of discoverable documents. Mirus Capital Advisors represented Lextranet in the transaction.
"The volume and complexity of discoverable material is expanding rapidly," said Mike James, President, Merrill Legal Solutions. "With the addition of Lextranet, Merrill now offers a more robust set of litigation support services, sparing our clients the risk, cost and complexity of multiple providers. Moreover, the combined technical expertise of both companies will yield state-of-the-art product development in the coming months and years."
Lextranet's suite of Web-based tools helps clients review documents, manage transcripts, stream synchronized transcript video, track discovery productions, process evidence, organize case files, archive data, and enable online collaboration. Neil Aresty and Harold Leach, Lextranet founders and recognized industry leaders, will be joining Merrill's management team.
"As we enter a new era of electronically-stored information, the most powerful litigation support solutions will integrate previously disparate point tools," said Aresty. "Legal professionals need a new generation of cost- effective tools to help them access, organize and even visualize all case- related information. We are pleased to join with Merrill's worldwide team of litigation support professionals to provide these enhanced solutions to the legal industry."
Lextranet's platform includes case management and transcript management and will provide Merrill with increased capacity and infrastructure.
"This business transaction reflects an emerging demand for the integration of litigation workflows across desktops and improving effectiveness and efficiency," said Michael Clark, managing director of EDDix LLC. "In our view, Merrill's acquisition of Lextranet is a strong signal that Merrill intends to lead the industry in this transformation."
About Merrill Corporation
Founded in 1968 and headquartered in St. Paul, MN, Merrill Corporation (www.merrillcorp.com) is a leading provider of outsourcing solutions for complex business communication and information management. Merrill's services include document and data management, litigation support, branded communication programs, fulfillment, imaging, and printing. Merrill targets markets including the legal, financial services, insurance, and real estate industries. With more than 6,100 people in over 70 domestic and 15 international locations, Merrill empowers the communications of the world's leading companies.
About Lextranet
Lextranet provides legal teams with the smartest, most advanced tools for practicing law in the 21st century. The Lextranet suite of Web-based tools includes a host of advanced features to help clients review documents, manage transcripts, share case materials, track discovery productions, process evidence, organize case files, archive data, and streamline collaboration. All of Lextranet's production, programming, and support services are located in Boston. The company has sales and marketing offices in Boston, New York, Philadelphia, and San Francisco.
About Mirus Capital Advisors
Mirus Capital Advisors provides investment banking solutions to corporate clients in technology, business services, manufacturing, consumer products, health care, and the resort & hospitality industry. Since 1987, Mirus has provided corporate finance advisory services on engagements including mergers, acquisitions, divestitures, recapitalizations, and valuations. For additional information, visit www.merger.com.
Back to Transactions