Mirus advises The Ariel Group on sale to Renovus Capital Partners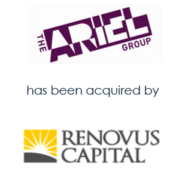 Mirus Capital Advisors, a middle-market investment bank, announced today that it has advised the shareholders of The Ariel Group, Inc. on the sale of its business to Renovus Capital Partners. Headquartered in Lexington, Massachusetts, The Ariel Group is a full-service provider of innovative leadership and communication training programs to global corporations and non-profits.
"The Mirus team successfully guided us through every aspect of the transaction, from identifying prospective buyers through closing. They conducted a thorough process and we are delighted by the outcome for The Ariel Group, its management team, and its shareholders," said Kathy Lubar, founder of The Ariel Group.
Renovus Capital Partners (www.renovuscapital.com) is an education-focused private equity fund based in Wynnewood, PA, a suburb of Philadelphia. Renovus manages $150 million in committed capital and invests in small and mid-sized businesses within the education sector, including both educational institutions and companies that provide these institutions with technology, content and services. Prior investments include EDIC College, a leading career college offering associate?s degrees and certificates in a variety of health-related fields, which serves approximately 1,500 students across two campuses in Caguas, Puerto Rico, as well as Atomic Learning, which uses its online platform to train teachers and students on how to use a wide range of education-related software applications.
"Kathy and Belle have built a great company, and we're excited to be part of taking it to the next level in partnership with the management team" commented Brad Whitman of Renovus Capital Partners.  "From speaking with customers, it's clear that Ariel Group has a unique and highly effective training program that has helped thousands of business managers improve their leadership and communications skills."
About The Ariel Group
The Ariel Group (www.arielgroup.com) is an international training and coaching firm comprised of performing artists and business professionals who believe the workplace functions better when people interact generously and communicate well. Their team of learning industry professionals customizes all of their discovery-based experiential offerings to suit the strategic business needs and learning objectives of each client. Solutions include core programs such as Leading with Presence, Personal Presence, Employee Engagement, and Inspiring with Presence, along with coaching, large groups, and keynote presentations.
About Mirus Capital Advisors:
Mirus Capital Advisors provides investment banking solutions to corporate clients in technology, business services, manufacturing, consumer products, health care, and the resort & hospitality industry. Since 1987, Mirus has provided corporate finance advisory services on engagements including mergers, acquisitions, divestitures, recapitalizations, and valuations. For additional information, visit www.merger.com.
Back to Transactions