Mirus advises Mobilize RRS in its sale to Zoll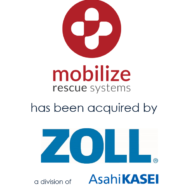 Mirus Capital Advisors acted as the exclusive financial advisor to Mobilize RRS (Mobilize) in its acquisition by ZOLL® Medical Corporation (ZOLL), an Asahi Kasei Group Company.
Mobilize is a privately held company that markets the Mobilize Rescue Systems app and associated rescue kits that act as an interactive trauma system to help untrained bystanders assess, manage, and help injured people during medical emergencies. There is a universal need to assist bystanders in playing a more active role in responding to emergencies that result from accidents, medical emergencies, and acts of violence.
Since the average ambulance response time is around 7-15 minutes, a bystander is frequently a victim's best hope for survival. Unfortunately, bystanders don't always have the knowledge or equipment they need to intervene.  Mobilize addresses this gap in a meaningful way.
"ZOLL is a leader in providing high-quality AEDs (Automated External Defibrillators) to help people save the life of someone suffering from sudden cardiac arrest," said Elijah A. White, President of ZOLL Resuscitation.  "Mobilize rescue systems are a natural extension for ZOLL, in that they give people the ability to help victims of nearly every type of emergency."
"This transaction will have a positive impact on saving lives," said Jeffrey Gerstner, CEO of Mobilize RRS. "With ZOLL's extensive network and reputation, our emergency technology will be adopted much quicker allowing it to help save the lives of more people."
"Mobilize is an ingenious and timely technology that has the potential to significantly impact the ability of bystanders to save lives," commented Patrick West, a partner at Mirus who leads the firm's med-tech practice.  "We are very pleased to have helped to find a partner as well suited to execute on this potential as ZOLL given their leadership position in the AED market.  We believe this transaction once again demonstrates that Mirus is the go-to advisor for middle market med-tech transactions."
Mobilize provides easy-to-use solutions that guide lay rescuers through the best way to provide assistance to victims of various emergencies. The systems include step-by-step instructions and supplies to help bystanders manage severe bleeding, cardiac arrest, seizures, choking, chest trauma, hypothermia, burns, and more—all while an ambulance is en route.
Each Mobilize product contains medical equipment that pairs with interactive software to help bystanders manage emergencies. The Mobilize Rescue Systems app helps individuals to rapidly obtain the knowledge necessary to save lives using the supplies in the rescue kit. The program asks mostly yes/no questions to assess the victim, points to the proper color-coded and labeled equipment, and then provides simple instructions on how to help the victim.
Back to Transactions