Mirus Advises Software Maker ASA Automotive in deal with Constellation Software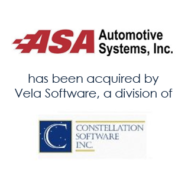 Boston, MA (December 10, 2013) – Mirus Capital Advisors announced today that they have successfully represented ASA Automotive Systems LLC, a developer of software for automotive tire retailers, in a sale of the business to Constellation Software (TSX: CSU).   Constellation acquired the ASA business through the Friedman division of Vela Software business.
ASA Automotive Systems is a leading supplier of on-premise and cloud-based software products for tire dealers, auto repair shops, and retreaders. ASA provides Point-of-Sale (POS), e-commerce, order processing, accounting and business management solutions for the retail, commercial and wholesale tire and automotive organizations. ASA products currently manage the sale of over 3 billion dollars in tire & services revenue per annum in the United States and Canada.
As a result of the acquisition, the ASA business will operate as an independent division of Friedman and will continue to develop, enhance and market software their solutions in order to provide a competitive edge to its customers.
Mark Thompson, Chief Executive Officer of Friedman, commented "the acquisition of the ASA Automotive business complements Friedman's markets and product portfolio. The ASA product offering will enable us to further grow our already-strong presence in retail and wholesale supply chain operations."
Ken Halle, President of ASA Automotive Systems, commented "We are pleased to be joining the Constellation family. This acquisition is extremely positive for both our loyal customers and staff. Our mission will not change, as we remain focused on driving quality products and services to our valued customers. This new relationship will give us access to a broad network of software professionals along with providing the support and security of a strong global parent company to enable us to continue growing and building the ASA software brand."
About Constellation Software Constellation's common shares are listed on the Toronto Stock Exchange under the symbol "CSU".. Constellation acquires, manages and builds vertical market software businesses. Further information about Constellation may be obtained from the company's web site at www.csisoftware.com.
About Friedman Corporation Friedman Corporation is headquartered in Deerfield, IL and is a division of the Vela Operating Group of Constellation Software. Friedman Corporation specializes in complete ERP solutions for manufacturers and distributors of "make to order" and "engineer to order" products in the building products, capital equipment, and automotive sectors. The Friedman Operating group also has a complementary portfolio of software offerings for transportation management, material optimization, supply-chain management, multi-channel merchant and direct-to-consumer distribution.
About Mirus Capital Advisors
Mirus Capital Advisors provides investment banking solutions to corporate clients in technology, business services, manufacturing, consumer products, health care and the resort & hospitality industry. Since 1987, Mirus has provided corporate finance advisory services on engagements including mergers, acquisitions, divestitures, recapitalizations and valuations. For additional information, visit www.merger.com.
Back to Transactions