Mirus represents Century-Tywood in transaction with J3 Corp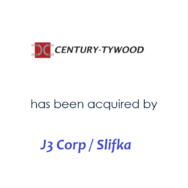 Century-Tywood recently transitioned ownership, welcoming President/Principal Andrew Slifka to lead the team to new heights.
Century-Tywood J3 Corp is a leading provider of fabricated sheet metal, precision fabricated components, stampings, and electro-mechanical assemblies.
The business was founded in 1949, initially specializing in metal stampings and precision tools and dies. Over time, the business expanded its solutions to custom sheet metal fabrication, as well as Fiber Optics. Century-Tywood employs over 90 people, including many long-time managers, highly skilled engineers, sheet metal mechanics, and qualified machinists who together provide best-in-class service to our customers.  In 2000, Century-Tywood built the 100,000 square foot facility that remains its location at 79 Lowland Street in Holliston, Massachusetts.  This impressive facility houses the cutting-edge equipment that yields the highest quality precision fabricated components.
Mirus Capital Advisors acted as exclusive financial advisor to Century-Tywood in the transaction.
About Mirus Capital Advisors
Successful business owners have turned to Mirus Capital Advisors for more than 30 years to help them realize their ultimate accomplishment – the sale of their business.  As a mid-market investment bank focused on mergers and acquisitions, Mirus drives successful deals for companies in the industrial, consumer products, healthcare, business services, and technology sectors.  Mirus has proven time and again that its deep industry expertise, focus on relationships, thorough preparation and unwavering commitment to every deal lead to meaningful accomplishments for business owners.  For more, visit www.merger.com.
Back to Transactions