Tellabs acquires DSP Software Engineering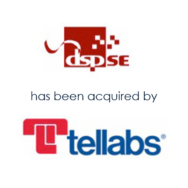 Boston, MA, Oct 29, 1999 – Mirus Capital Advisors, Boston's leading private M&A advisory firm, announced today that the firm has successfully negotiated the sale of DSP Software Engineering Inc. (DSPSE) to Tellabs, representing the seventh technology-related transaction for the firm in 1999.
DSPSE is a Bedford, Mass.-based developer of digital signal processing software. It has developed world-class technical expertise in DSP software and hardware integration and has leveraged its expertise into the development and delivery of voice-over-IP backbones (VOIP). "We're pleased to work collaboratively with Tellabs to lead the evolution to voice-over-multi-protocol networks," says Joseph Della Morte, president of DSPSE.
Tellabs designs, manufactures, markets, and services data, voice and video transport, switching/routing, and network access systems. The company's products are used worldwide by the providers of communications services. Tellabs stock is listed on the Nasdaq Stock Market (TLAB).
In a company press release, Brian J. Jackman, president of Global Systems and Technology at Tellabs, commented "The addition of the DSPSE technology will enhance our ability to deliver voice-over-multi-protocol solutions and bolster our industry-leading voice-quality enhancement solutions worldwide."
The principals of Mirus, retained on an exclusive basis by DSPSE, initiated the transaction, acted as financial advisor to the selling stockholders, and participated in the negotiations leading to its successful conclusion. Jamie Grant, a managing director for Mirus commented, "The rapid development and acceptance of new telecommunications infrastructure technologies is forcing many large, established players, like Tellabs, to acquire smaller firms that possess key emerging technologies."
About Mirus Capital Advisors
Mirus Capital Advisors, Inc. provides investment banking solutions to middle market corporations in targeted technology, manufacturing, and service industries. The firm's services include merger advisory, private equity raising, and valuation services for entrepreneurs, corporations and professional financial investors. Additional information about the firm is available on its Web site www.merger.com.
Back to Transactions