Xaloy Inc. Completes Management-Led Buyout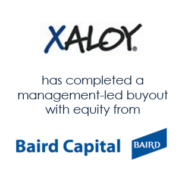 (Boston, MA, March 9, 2004) Xaloy, Inc., formerly a Saurer Group company, has announced that it has been acquired by its management team in partnership with Baird Capital Partners of Chicago, Illinois. Key Principal Partners, L.L.C. provided additional equity and subordinated debt; Harris Trust & Savings Bank provided the senior debt. Xaloy management made a significant equity investment. Mirus Capital Advisors Partner Alan Fullerton acted as exclusive financial advisor to Saurer in this transaction.
"We are excited to partner with such a strong and well-regarded management team as Xaloy," stated Andrew Brickman, a Partner at Baird Capital Partners. "With its leading market position, global sales and manufacturing presence and technical and manufacturing expertise, Xaloy represents an ideal investment for Baird Capital Partners."
"Walter Cox and his team have accomplished a remarkable goal: building a leading company through a difficult economic period," stated Alan Fullerton. "The strategic moves taken this past year repositioned the business, creating this opportunity for management and their partners, and strengthening the company's ability to serve its customers."
Xaloy continues to be committed to making strategic acquisitions which fit the company's business strategy. The company has over 500 employees and annual revenues of approximately $60 million.
About Xaloy, Inc.
Xaloy is the world's leading manufacturer of process systems and components for plastics molding and extrusion machinery. The company supplies bimetallic barrels, high-performance screws and precision-engineered nozzles to machinery builders and plastics processors around the globe from its plants in the U.S. and Thailand.
About Baird Capital Partner
Baird Capital Partners provides late-stage growth capital or change-of-control capital to U.S.-based middle market companies in the areas of Industrial Products and Technology, Business Services, Communications, Consumer and Life Sciences / Health Care. Baird Capital Partners is the private equity affiliate of Robert W. Baird & Co., an international wealth management, investment banking, asset management and private equity firm.
About Key Principal Partners
Key Principal Partners (KPP) is a $1 billion private investment firm offering both junior and venture capital lines of investing. Affiliated with KeyCorp, a financial services firm headquartered in Cleveland, KPP can provide $5-30 million to middle market companies seeking either non-controlling or controlling investments.
Back to Transactions